Chandor Gardens Foundation
The focus of the Chandor Gardens Foundation is to preserve the heritage of the Gardens and work with the City of Weatherford to further develop the Chandor property, in keeping with Douglas Chandor's artistic vision.
Douglas Chandor was one of the great portrait artists of the 20th Century. Five of his paintings are on display in the Smithsonian's National Portrait Gallery. His portrait of Eleanor Roosevelt is displayed in the White House, and his coronation portrait of Her Majesty, Queen Elizabeth II, graces the British Embassy in Washington, DC.
His passion for gardening and his artistry intertwined to be beautifully expressed in the gardens he created and named White Shadows. After the untimely death of Douglas in 1953, his wife, Ina, paid tribute to him by changing the name to Chandor Gardens.
Today, Chandor Gardens is a destination unto itself. It is the location of joyous events, memory-making occasions, and pleasant wanderings.
---
FEATURED FUNDRAISING PROJECT:
Bronze Portrait Bust of Douglas Chandor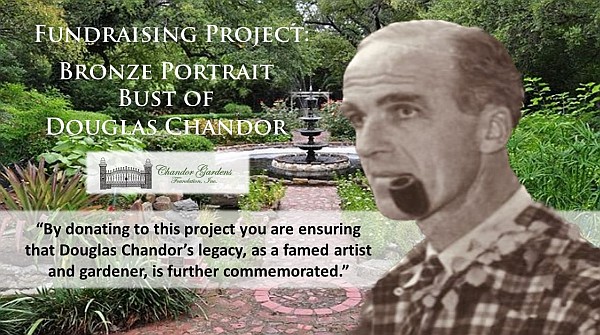 Chandor Gardens Foundation Inc. & Friends of Chandor Gardens are fundraising and seeking donations to commission a life-sized bronze portrait bust of the famed portrait artist and gardener Douglas Chandor (1897– 1953), by Fort Worth sculptor Michael Pavlovsky.
Current fundraising status of this project: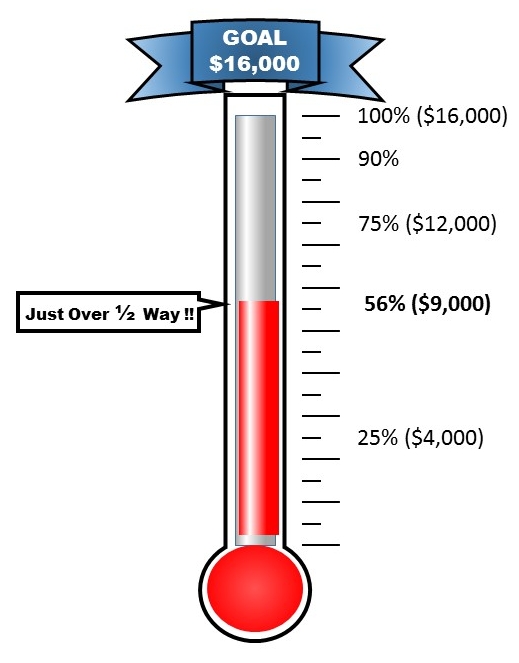 For More Details About This Project - CLICK HERE
UPCOMING FEATURED FOUNDATION & FRIENDS EVENTS:
Wine & Words "Top O' Hill Terrace: Poker to Preachers" - April 1, 2023 at Chandor Gardens @ 7:00PM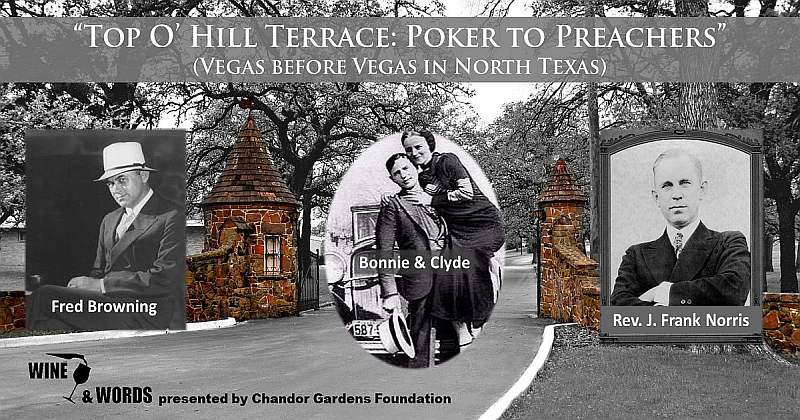 Join us for the next installment in our ongoing "Wine & Words" Speaker Series the evening of Saturday, April 1, 2023 at Chandor Gardens, Weatherford, TX to hear the story of "Top O' Hill Terrace: Poker to Preachers" by speaker Vickie Bryant, historian, author, curator, and pastor's wife.
The story of Top O' Hill Terrace, known as "Vegas before Vegas", seems improbable, unbelievable, and even impossible. It is a Texas story stranger than fiction, but a story that is absolutely true.
On the surface, Top O' Hill Terrace appeared to be an elegant tearoom located along the Bankhead Highway between Fort Worth and Dallas. However, on the underside, during the 1930's and 1940's lurked a glitzy speakeasy and notorious casino. Top O' Hill Terrace was the "it" place to gamble before Las Vegas became the gambling mecca of the nation.
Doors open at 6:30
Tickets - $30 (wine/beer included in ticket price)
CLICK HERE TO PURCHASE TICKETS
2nd Annual Secret Gardens of Parker County Tour - June 3, 2023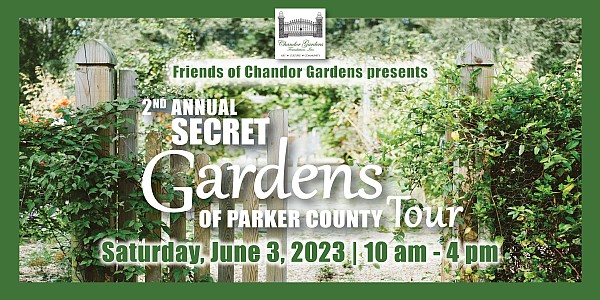 Enjoy a self-guided journey through 5 unique gardens in Parker County. An exciting glimpse behind the hedges, fences and gates!
The Friends of Chandor Gardens are pleased to present the 2nd Annual Secret Gardens of Parker County Tour of 5 unique gardens in Parker County, Texas, which showcases stunning views, landscaping ideas, fascinating plants and garden art.
This is a self-guided tour, so you can make your own itinerary and go at your own pace between the hours of 10:00 A.M. and 4:00 P.M. on Saturday, June 3, 2023.
Tickets:
$12/person - online in advance
$15/person - day of the event at 1st garden visited.
CLICK HERE FOR ADDITIONAL INFO AND TICKETS
Follow us on Facebook to keep in touch with our Chandor Gardens Foundation community.
For more information about any of our featured events please call 682-268-0102.
---