Chandor Gardens Foundation
The focus of the Chandor Gardens Foundation is to preserve the heritage of the Gardens and work with the City of Weatherford to further develop the Chandor property, in keeping with Douglas Chandor's artistic vision.
Douglas Chandor was one of the great portrait artists of the 20th Century. Five of his paintings are on display in the Smithsonian's National Portrait Gallery. His portrait of Eleanor Roosevelt is displayed in the White House, and his coronation portrait of Her Majesty, Queen Elizabeth II, graces the British Embassy in Washington, DC.
His passion for gardening and his artistry intertwined to be beautifully expressed in the gardens he created and named White Shadows. After the untimely death of Douglas in 1953, his wife, Ina, paid tribute to him by changing the name to Chandor Gardens.
Today, Chandor Gardens is a destination unto itself. It is the location of joyous events, memory-making occasions, and pleasant wanderings.
---
UPCOMING FEATURED FOUNDATION & FRIENDS EVENTS:
Wine & Words: The Art of Texas 250 Years, March 12, 2022 @ 7:00 P.M.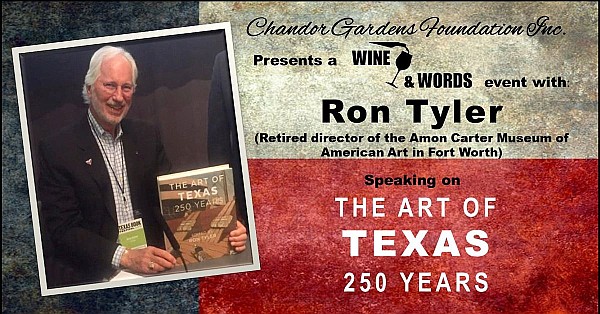 Chandor Gardens Foundation Inc. is pleased to present a Wine & Words evening on March 12, 2022, at Chandor Gardens Mansion, starting at 7:00 P.M. (Doors open at 6:30) with guest speaker Dr. Ron Tyler presenting: The Art of Texas: 250 Years.
Come and enjoy a glass of wine while Dr. Ron Tyler shares a summary of beautiful illustrations and insights into how the art of Texas has captured the uniquely Texan culture formed over the centuries.
Tickets are $35
Click Here To Purchase Tickets
Gardens to Galleries: Kids Spring Break Camp, March 17 & 18, 2022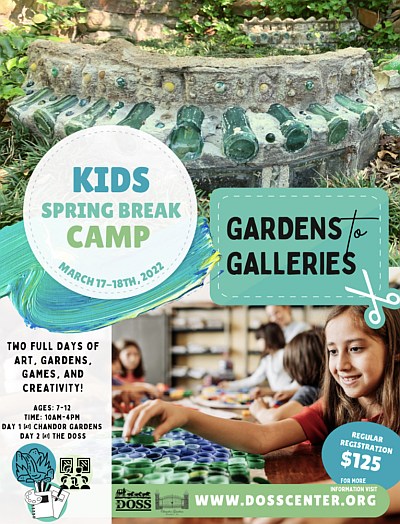 Chandor Gardens Foundation Inc. and The Doss Heritage and Cultural Center are pleased to present Gardens to Galleries an exciting new 2 day camp experience for children 7 -12 yrs on March 17 & 18, 2022 .
Registration for this camp opens on January 20, 2022 at 10:00 A.M. on The Doss Heritage an Cultural Center website.
Click Here To Learn More & Register
Follow us on Facebook to keep in touch with our Chandor Gardens Foundation community.
For more information about any of our featured events please call 682-268-0102.
---