EXISTING vs WHAT'S POSSIBLE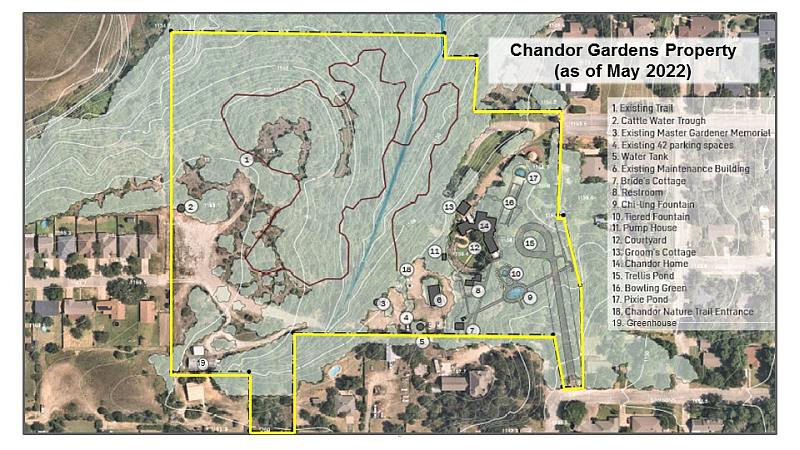 Chandor Gardens Existing Condition
(The yellow line identifies the property area of Chandor Gardens)
THE MASTER PLAN:
AN EXCITING FUTURE FOR CHANDOR GARDENS!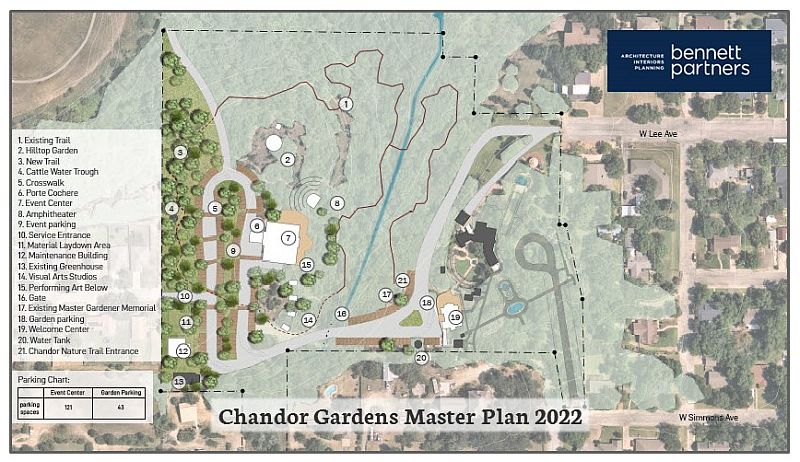 To further the mission and vision of the Chandor Gardens Foundation, the Foundation in partnership with the City of Weatherford retained the services of the highly respected architectural firm Bennett Partners of Fort Worth to develop a Master Plan for Chandor Gardens. Bennett Partners have a history of incorporating nature, community and purpose in their design efforts, and have worked previously with coalitions of government and private entities to produce unique and esthetically pleasing spaces for all to enjoy.
What is a Master Plan? - A Master Plan is a dynamic long-term planning document that provides a framework for a site's best and highest potential for the future. It helps define the needs or goals, then brings together the vision for the project, and establishes a plan to accomplish it.
The Chandor Gardens Master Plan focuses on the four distinct roles of Chandor Gardens, which collectively contribute to enhancing the quality of life in Weatherford, as well as making it a major tourist and visitor attraction. The four roles of Chandor Gardens are:
As a boutique display garden
As a meeting and rental facility
As a center for arts and culture
As a location to access nature and observe wildlife
The Master Plan design, completed May 2022, addresses the following identified needs, in a phased approach:
Additional parking.
A relocated and efficient new Maintenance Building.
A Welcome Center to greet, orient, and direct visitors as they enter the existing gardens, archive space for historic documents and resource materials, and including space for a gift shop.
An Event Center with additional performing and arts venues within the 13.5 acre area west of the existing Chandor Gardens; to relieve pressure off of the historic Chandor House so it is not damaged by over use, to increase capacity for larger events, to provide indoor backup for outdoor events, and to enhance the cultural life of Weatherford.
Master Plan Phasing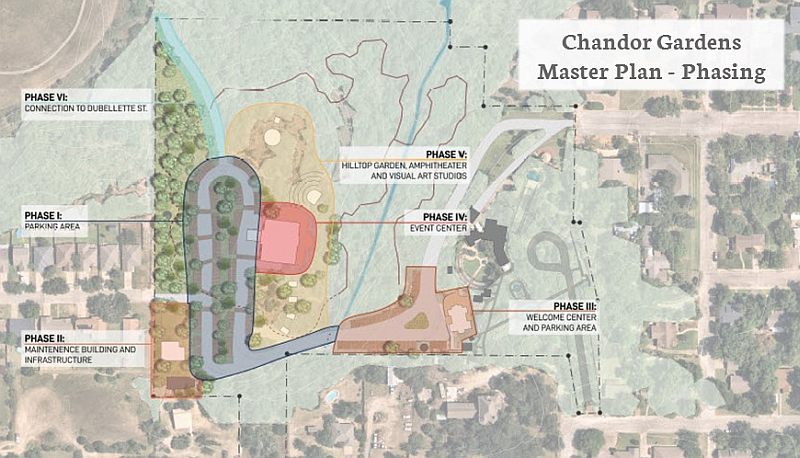 Phase I - Expanded Parking
The highest need priority for Chandor Gardens is additional onsite parking. There are currently only 42 parking spaces at Chandor Gardens, which forces event guests to park offsite (down the length of Lee Avenue as well as on the other residential streets near by), and walk a considerable distance just to get to Chandor Gardens.
Expanded parking of 121 new parking spaces will be created on the west side of the Chandor Garden's property. These additional parking spaces will bring the total parking spaces available at Chandor Gardens to 163. These new spaces will serve as primary parking of the new Event Center and as additional parking for the existing gardens.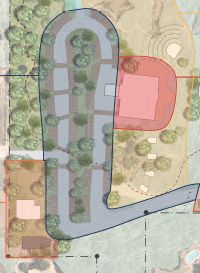 Phase II - Maintenance Building
A new Maintenance Building is necessary as the existing maintenance building (intrusively situated in the parking lot near the Gardens), is ineffecient and needs to be removed to make room for the much needed Welcome Center.
The new Maintenance Building, to be located near the existing greenhouse on the west side of the property, is expected to be about 1,200 sf and will include storage space for equipment and materials, an office space and a restroom. The new maintenance facility will provide effieciency for the grounds and operation staff and give them the kind of spaces they need to work effectively.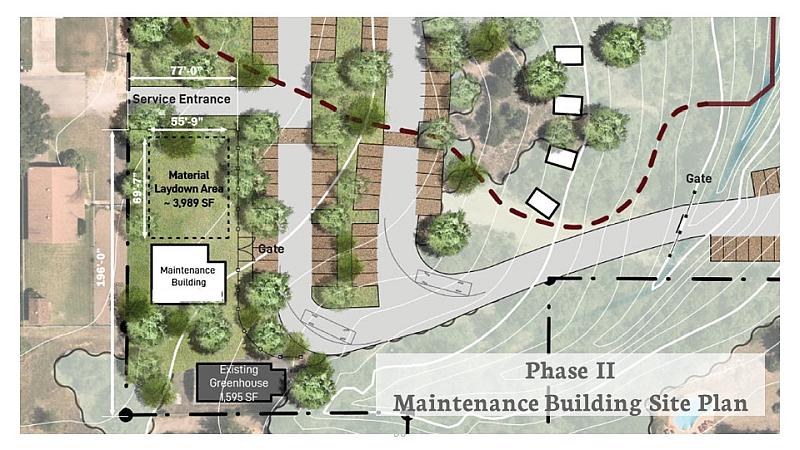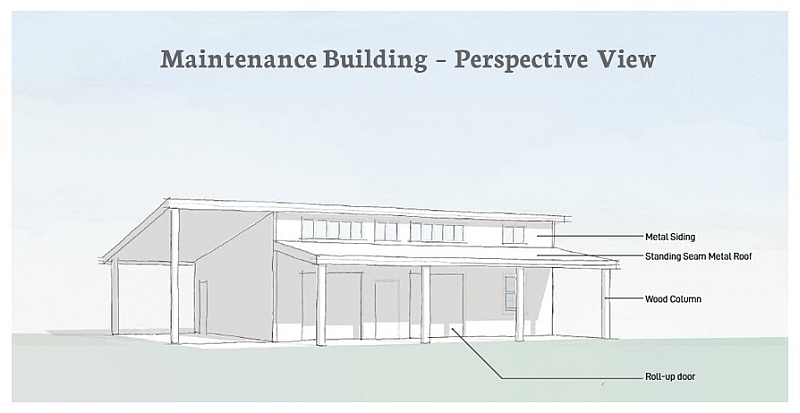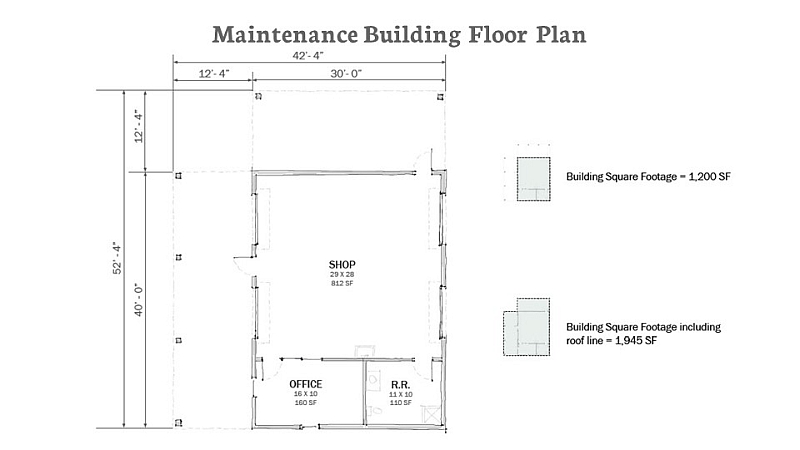 Phase III - Welcome Center
There is a very high need for Chandor Gardens to have a dedicated Welcome Center to; greet, orient, collect admission and direct visitors prior to entry to the existing gardens. Currently, part of the historic house within the gardens is being utilized as an area to collect admission, but is difficult for visitors to locate and there is no space for any retail sales of momentos or gift items.
The new Welcome Center is expected to be about 2,100 sf and will include space for a gift shop, media room, and display of historic photos, documents and resource materials. The proposed Welcome Center creates a true botanical garden and museum entry experience for visitors, and for the first time at Chandor Gardens provides space for relaxed and enjoyable admissions, orientation and gift shop sales. It considerably enhances the overall visitor experience.
lo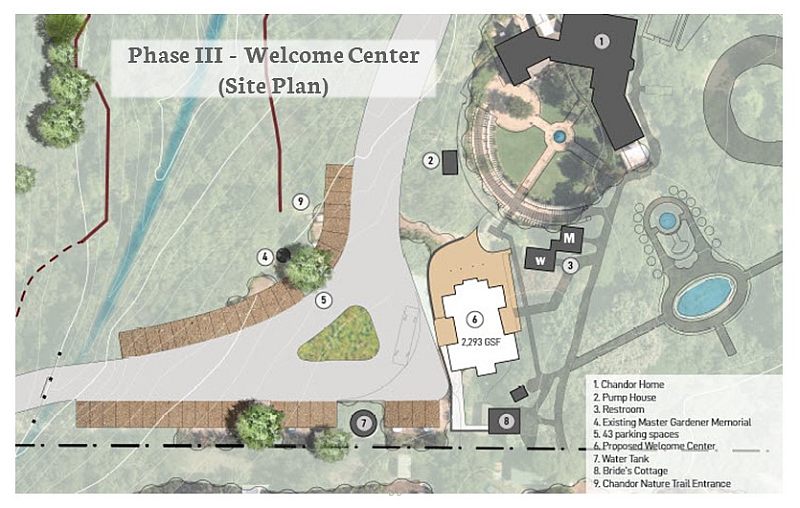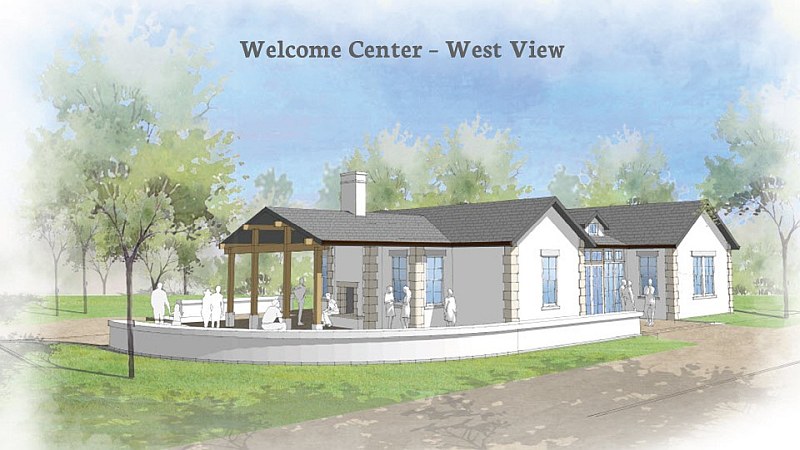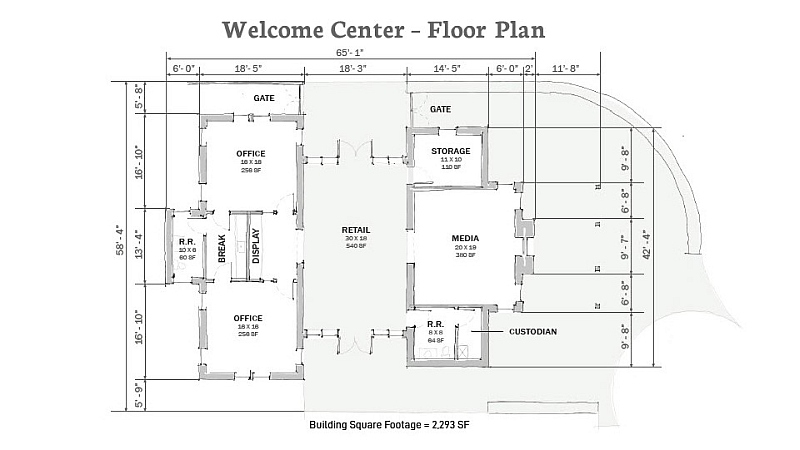 Phase IV - Event Center
An event center will dramatically expand Chandor Gardens ability to provide rental space while helping to protect and preserve the historic house, and enables Chandor Gardens to fullfill its role as a center for arts and culture, adding significantly to the cultural life of Weatherford.
The Event Center is planned with approximately 8,500 sf at ground level and a 5,000 sf lower level which can accommodate break out space and dedicated arts programming. This building will have a catering kitchen to support a seated banquet of up to 250 people. With theater style seating the main hall could accommodate an estimated 450 visitors for concerts or other special events depending on stage and seating configurations. The landscaping around the Event Center will be designed to reflect the artisitic vision of Douglas Chandor and thus tie it to the existing gardens.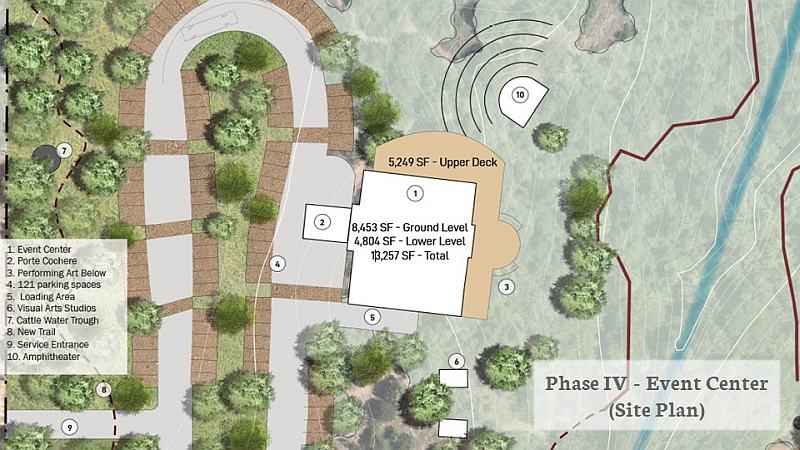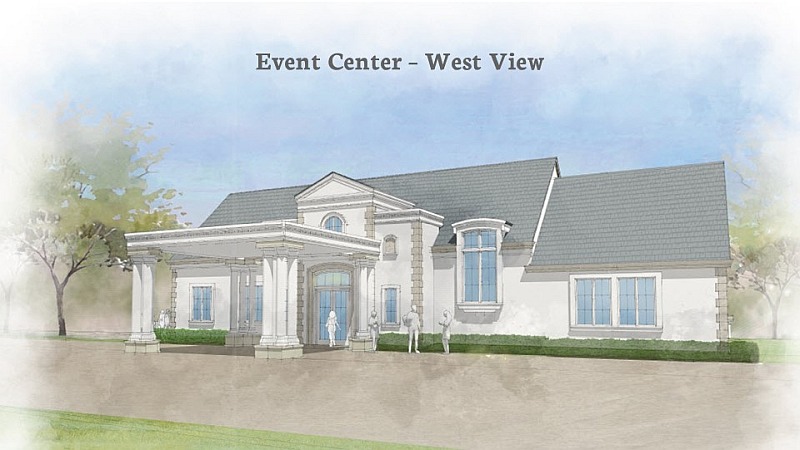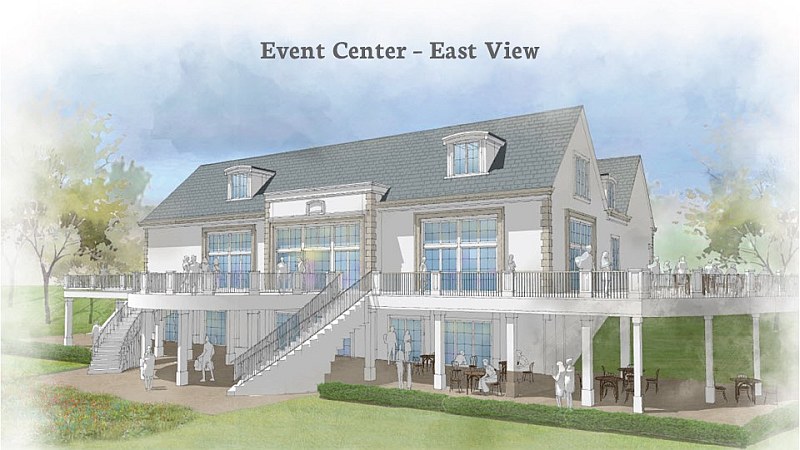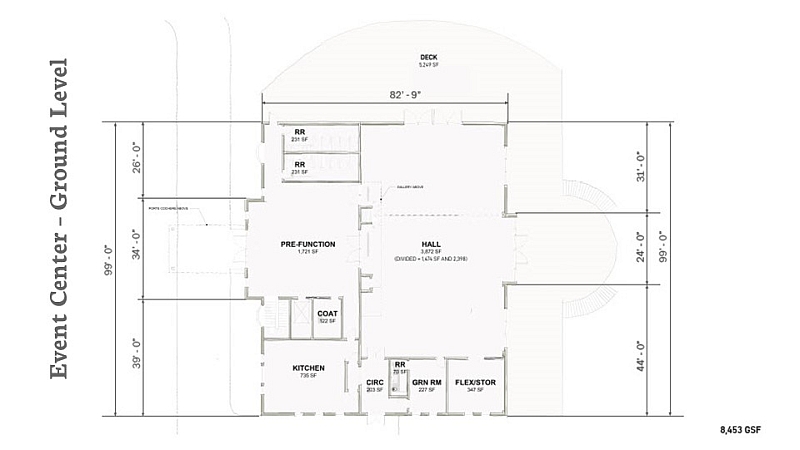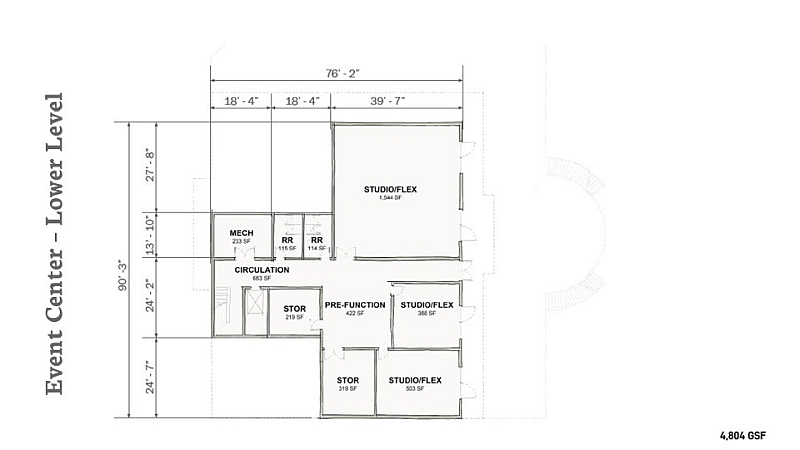 Phases V & VI
Additionally, the potential for artist's studios, an Amphitheater nested within the landscape, extension to the Nature Trail, and a Hilltop Garden have been identified as further enhancements all in keeping with the mission of Chandor Gardens.
As well an additional enterance point to the property from Dubellette St in the North West corner of the property has been identified as a contingency should an additional enternace ever be deemed necessary.